Thompson Consulting, Inc.
Multi-disciplinary engineering R/D
Some Consulting Projects

Following are thumbnail sketches of some of our past consulting jobs in the areas of analog design, magnetics, power electronics, electrochemistry, and system design.
---
High Power Laser Diode Modulator Based on Power Converter Technology
System designed for driving 500 mW to 2.5W diodes, at full optical power modulation up to frequencies of 10 MHz. The circuit is capable of delivering up to 2.5 A to a laser load, with a 10 - 90 % switching risetime from lasing threshold to full optical power output of less than 20 nanoseconds. The system has an active ripple reduction circuit which reduces current ripple to less than 1% of full scale. A current source is generated from a quasi-Buck converter technology for higher efficiency than previous laser drivers, allowing removal of a bulky heat sink. The PC board is connected to the laser through a microstrip cable. More detail is given in the paper here and in the US patent here.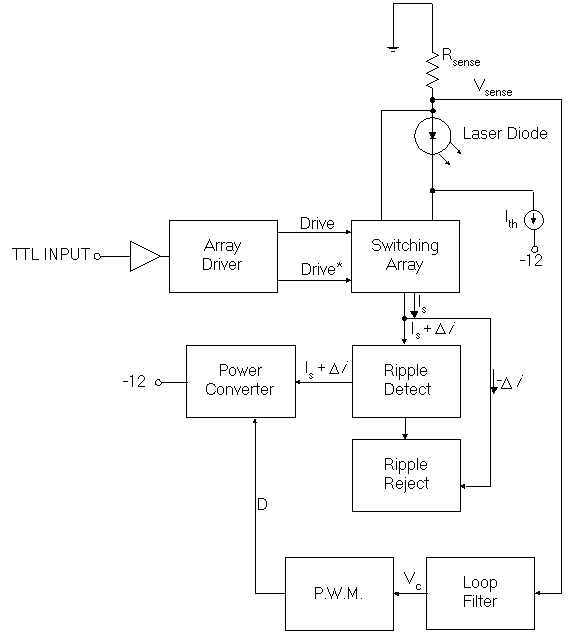 Block diagram of laser diode driver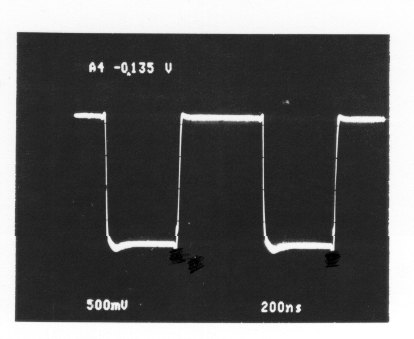 Transient response of laser output, 2 Watts full scale vertical
---
Dual-Level Semiconductor Diode Laser Modulators
Designed 3 Amp, 20 nanosecond risetime semiconductor diode modulator for driving gallium arsenide laser diodes. The driver had a dual-level diode ON current with adjustable overdrive amplitude and duration. Patents are pending on dual-level drive concept.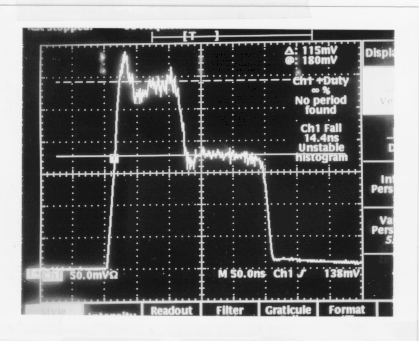 Dual-level laser driver test results using fast photodiode. 2 Watts optical power full scale vertical, 50 ns/div.
---
Switching Power Supply for CCD Camera
Designed multiple output switching power supply for CCD camera. Included battery management and switching for multiple battery inputs.
---
Series Laser Diode Driver
Designed 3 Amp, series laser driver for driving 8 GaAs diodes in series. Based on current-controlled Buck topology, switching at 200 kHz with T filter at output for reduced magnetics size.
---
Magnetically Levitated Flywheel Energy Storage System
Assisted in successful Phase I S.B.I.R. preparation for magnetically levitated flywheel energy storage device. Performed stress analysis, rotational loss calculations, finite-element analyses and magnetic design. Assisted in successful Phase II proposal preparation. Am currently acting as consultant on Phase II NASA SBIR "Shaftless, Magnetically Levitated Flywheel Energy Storage System"
---
Multiple-Output Offline Flyback Power Supply
Designed wide temperature range, universal input offline flyback power supply for ultrapure water instrumentation.
---
Laser Diode Forensics
Assisted client in determining causes of laser diode failures in spectroscope application.
---
PC Board Spiral Inductors for Induction Heating
Performed study to determine design tradeoffs in planar spiral inductors and transformers. Did comprehensive literature search, solved simplifying cases, and ran finite element analyses for selected geometries. From these studies, a set of design principles were identified.
Designed, modeled, and analyzed small PC board spiral inductors for induction heating applications. Developed approximation methods and scaling laws, and did 2D and 3D finite-element analyses (FES) for candidate designs. Devised scaling laws for spiral inductors. Wrote technical reports for client company.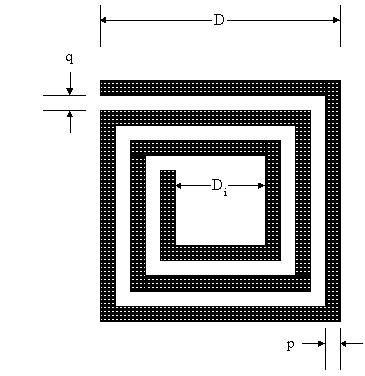 Planar spiral inductor geometry
---
R/D for Ultrapure Water Instrumentation
Did R/D and wrote SBIR for measurement of electrochemical effects at water/electrode interface. Designed miniature probe for measuring electrochemical effects at interface.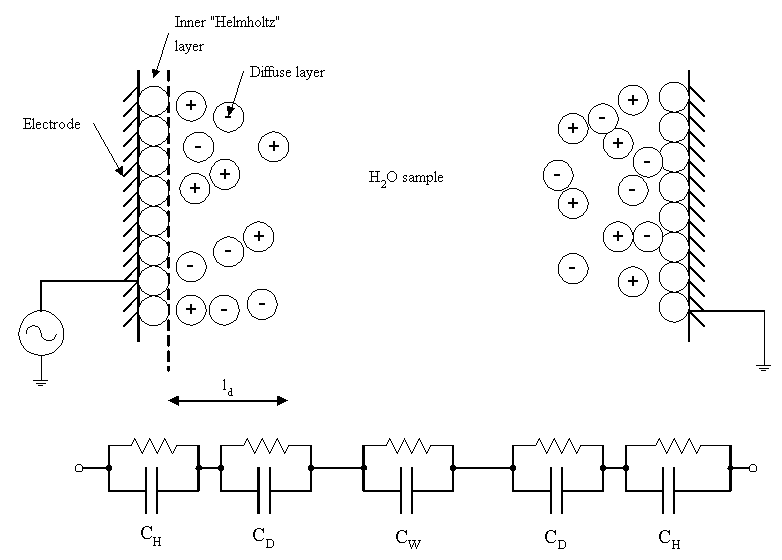 Electrochemical model of the water/electrode interface
---
Miniature Capacitive Proximity Probe Analysis
Designed, modeled, and analyzed small capacitive proximity probes. Developed approximation methods, and did finite-element analysis (FES) for candidate designs. Wrote technical reports for client company.
---
Actuator Magnetic and Thermal Design

Did magnetic and thermal design for small lens actuator. Designed switching actuator driver for higher bandwidth and power delivery efficiency. Generated thermal models and finite-element analysis for design.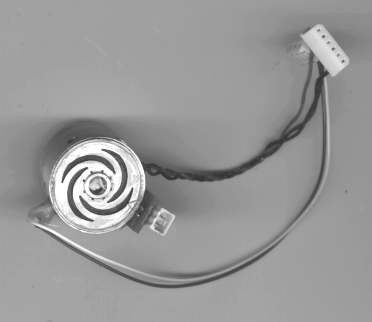 Magnetic actuator with flexural lens mounting
---
Control System Algorithm for Photovoltaically-Driven Inverter
Design review and control system specification for 300 Watt 3-phase inverter system driven from a photovoltaic source. PC board layout review.
---
Eddy Current Brakes
Designed permanent magnet induction brakes for amusement park applications. Work included magnetic optimization and materials specification for brake electrodynamic and mechanical design. Have built scale-model fixture for evaluating different braking geometries, including linear brake arrays and Halbach arrays. Work with Magnetar Corporation
---
Ranging System Analysis
Identified acoustic ranging system for client company. Analyzed possibility of using alternate schemes using laser diode triangulation and time-of-flight measurements.
---
Audiotape Forensic Analysis
Performed forensic analysis on audiotape to determine if tape was modified/tampered.
---
Magnetic Pick-and-Place
Re-designed magnetic pick and place system for improved reliability
---
Other Consulting Projects
Designed systems for high speed modulation of 100 milliWatt, 500 mW, 1W and 2W semiconductor diode lasers

200 kHz switching actuator driver for lens positioning

Assisted in design of 300 kHz flyback offline switching power supply

Thermal analysis of inductive proximity sensor

Assisted in preparation of 3 SBIR proposals

Assisted in proposal preparation for semiconductor laser diode safety beacon for bicycle application

Phase-locked loop analysis for induction heating application
---
Thompson Consulting, Inc
9 Jacob Gates Road, Harvard MA 01451
Email: info@thompsonrd.com
Business website: http://thompsonrd.com/index.htm
Home Page | Curriculum Vitae | Consulting Projects | Maglev Research at MIT | Teaching at WPI | Links
---
Any errors or omissions?  Please contact webmaster@thompsonrd.com
Thompson Consulting, Inc. ("TCI") intends for the information contained in this web site to be accurate; however, errors sometimes occur. Therefore, TCI DISCLAIMS ANY WARRANTY OF ANY KIND, WHETHER EXPRESSED OR IMPLIED, AS TO ANY MATTER WHATSOEVER RELATING TO THIS WEB SITE, INCLUDING WITHOUT LIMITATION ITS MERCHANTABILITY OR FITNESS FOR ANY PARTICULAR PURPOSE. IN NO EVENT SHALL TCI BE LIABLE FOR ANY DIRECT OR INDIRECT, SPECIAL, INCIDENTAL OR CONSEQUENTIAL DAMAGES ARISING OUT OF THE USE OR INABILITY TO USE THE MATERIALS ON THIS WEB SITE.  Copyright © 1998-2008,Thompson Consulting, Inc., all rights reserved.

<![if !supportLineBreakNewLine]>
<![endif]>